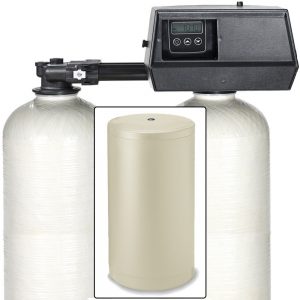 The brand value of Fleck naturally raised the expectations when Fleck 9100SXT was first launched in the market. I had seen this model at my colleague's home once, and it looked pretty decent to me. Around 6 months ago, I replaced my old water softener with this one. I know a thing or two about how water softening systems work, being a regular user of those since more than a decade. This model is engineered to serve medium to large families, yielding an output of 12 gallons per minute.
Product Highlights
   This product has a fairly large footprint, so make sure you have enough space to install the water softener.

   The twin tanks ensure you never face the shortage of conditioned water. They are made from a premium grade poly-glass. Each tank utilizes its full capacity before switching on to another tank for maximum efficiency.

   Putting together the components shouldn't require any professional help for most users.

   An on-demand flow meter ensures that the unit regenerates based on your household water needs.

   Though optional, you can use a carbon or sediment pre-filter in the unit to obtain optimally purified water.
Thumbs-up
Great Capacity
The unit is capable of eliminating 48,000 grains of hardness between the regeneration cycles. This capacity is sufficient for my house which has three bathrooms and 12 members. Thanks to the dual tank design, the frequency of refilling the tank with salt is reduced significantly.  If you are dealing with severe pipe clogging issues, this could be your go-to product. The stickiness in the faucet water at my residence vanished almost completely after installing this softener. This is the biggest plus point of having a salt-based system. It efficiently removes the hardness mineral ions without affecting the water's pH level.
Overfilling Protection
The way Fleck designed this model with a large brine tank with a built-in safety float is worth appreciating. During the regeneration, the brine tank is filled with soft water, saving a lot of salt in the process. The same feature also helps keeping the resin bed clean. The safety float prevents you from overfilling the tank, thereby, freeing from the hassle of refilling the tank from time to time.
24-Hours Protection
On top of dual tanks, this unit also incorporates a 48-hour internal capacitor to keep the water softener running in the event of power cuts. My area doesn't face power outrage often but it's good to know that I've a back-up in case a hurricane hits my town.
Thumbs-down
The high level of sodium (salt) in water cannot be considered healthy for individuals with high blood pressure and cholesterol problems. Moreover, salt-based softening removes all the essential minerals from the water. That is why I would suggest you to refrain from drinking the conditioned water.
The huge profile of this equipment makes it suitable only for large houses and commercial buildings. You need to have a lot of free space to install this unit which limits its applicability.
Wrap Up
Fleck 9100SXT, to put it simply, is a heavy-duty water softener for heavy-duty usage. Packed with all the essential utilities along with dual tanks, it ensures an uninterrupted 24x 7 service. I found the assembly of the parts a bit too complex for my knowledge but my plumber took barely 90 minutes to set it up. The functionality of the softener leaves no room for any doubt. If the giant structure of the model is an issue, that's not even technically its fault.