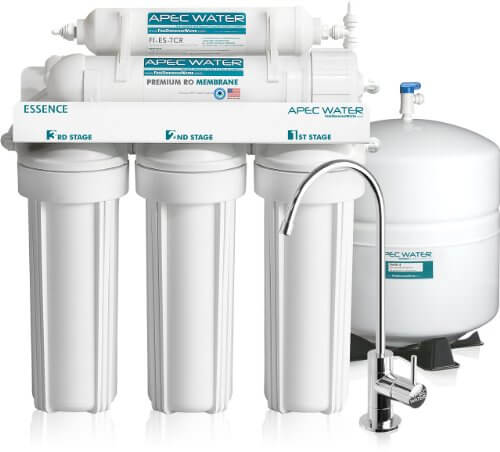 I am not here to answer this question, my goal is to help you develop a logical and informed outlook towards the entire saga of water softening technology. Hard water or mineral rich water does no harm to the body, the problem occurs when it starts leaving a sticky white deposit around the water-based systems, notoriously known as scale. Unsightly spots on cups and dishes are also a prominent sign of an alarming level of hardness in water.
How is a water softener likely to help?
A water softener is a special device exclusively designed to sieve out hardness minerals (calcium and magnesium) from the water. Usually hooked onto the main pipe of the house or the showerhead, most traditional appliances use ion exchange method to trade sodium ions for hard mineral ions. Apart from such salt-based water softener systems, you can also consider salt-free or magnetic water softeners which engineer a more eco-friendly, cost-effective technology to condition the water. Some latest models include an electric timer or computer to monitor water usage and recycle time, salt based and salt-free softeners with automatic regeneration system are quite popular these days.
General hard water problems
The plumbing fixtures, pipework and kitchen appliances are the first to get affected by hard water. Scale production is the most common trouble triggered by hard minerals. Did you ever notice a slimy, sticky feeling on the glasswork, sink, bathtubs and bathroom floor? The harder the water is, the slimier these get. Predominance of calcium and magnesium in water causes white deposits on dishes. As an inevitable outcome, even after through washing, they don't look clean enough. The white stains can appear on the windows when washed with unconditioned water. Scale build-up diminishes the durability and functionality of plumbing systems. When the scale deposits clog the interior of the pipe, the water pressure slows down to a considerable extent. Fixing a defective pipe system is an expensive affair.
Hard water takes a toll on your skin and hair as well. People struggling with dry skin and dull hair problems should strictly avoid showering with mineral-rich water as it might worsen the condition. An abundance of minerals in water reduces the effectiveness of soaps and shampoos. Bathing in hard water is not even close to being comfortable. An easy trick to inspect the intensity of the menace is to pour a spoonful of detergent into the water, if it doesn't lather well, you know where you stand. When it doesn't foam properly, you need to use more detergent and double effort to achieve an optimal result. Rigorous cleaning is pretty harmful for the fabric and colour of clothes.
Think before you act
Taking a water test using a simple tool is the most scientific method to come up with a definite answer of the question-"do you really need a water softener?". You can also take professional help to find out whether you've serious hard water problem in your house. Water softeners come in different sizes and types. From expensive, feature-loaded devices to simple, zero-maintenance, environmental-friendly machines, the options are endless.